I. Trend Analysis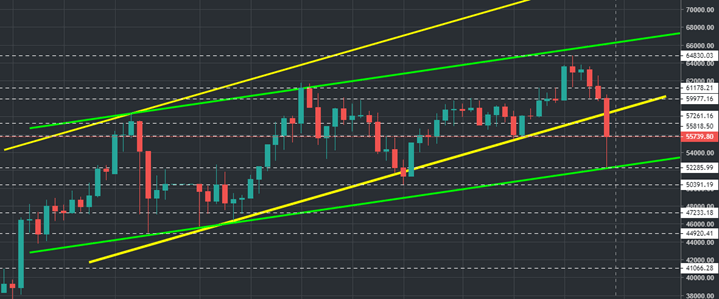 Chart 1: Trend Analysis
BTC / USD, which has been in an uptrend in the yellow channel since February 21, 2021, has been supporting 6 times. tested their points and successfully found support and continued to rise and follow the trend. However, as of today, we can say that the trend in the yellow channel has come to an end if it does not jump above $ 59,000 very suddenly.
But today, with a $ 52,231 dip, it has opened a new bullish trend channel that has been tested 4 times before. We can see this from the green-lined channel in Graphic 1. The support in this channel has been tested 5 times as of now, and the resistance levels above the channel have also had the opportunity to test itself 4 times. It can be expected that the Bitcoin / USD chart will continue to rise as long as it can protect itself within this channel. You can reach the details mentioned in Graphic 1.
II. Support & Resistance Points and Fibonacci Retracement

Chart 2: Support & Resistance Points and Fibonacci Retracement
In the first stage in the upward direction in the channel, 4 resistance points appear. On the downside, 1 support point inside the channel and 5 outside the channels can be mentioned. We can expect it to follow the trend between these support and resistance points in the first stage, depending on the availability of sufficient volume and support and the news feeds.
| | | | |
| --- | --- | --- | --- |
| MAIN RESISTANCES |   | MAIN SUPPORTS |   |
| 3.Main Resistance | $64,830.00 | Fibonacci Support | $54,877.00 |
| 2.Main Resistance | $61,178.00 | 1.Main Support | $52,285.00 |
| 1.Main Resistance | $60,000.00 | 2.Main Support | $50,391.00 |
| Fibonacci Resistance | $57,261.00 | 3.Main Support | $47,233.00 |
|   |   | 4.Main Support | $44,920.00 |
|   |   | 5.Main Support | $41,066.00 |
III. Formation Points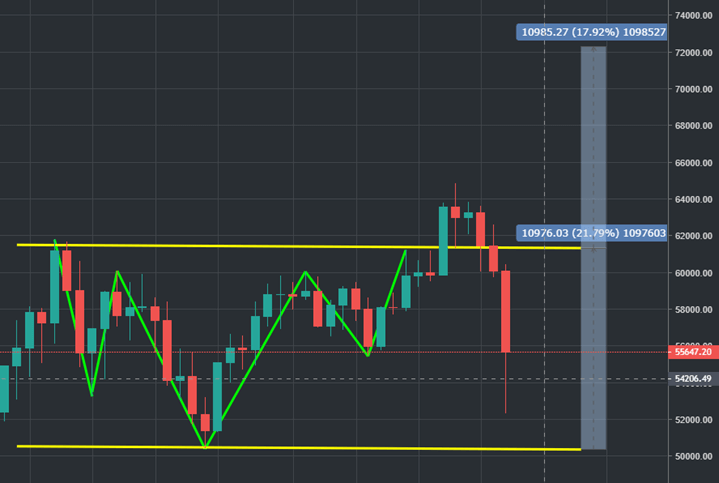 Chart 3 - Reverse Head and Shoulder Formation
Bitcoin has formed a Reverse Shoulder Head and Shoulder Formation in the past month, if this formation occurs, the price is expected to go up in the future as much as the formation height. The full formation of the bur formation and the voluminous passing constitute the expectation that Bitcoin will reach $ 72,000 in terms of formation. However, we cannot predict when these values ​​will come in terms of formation. However, we can predict that it will come in the near future if it remains within the trend. We can observe this formation from Chart-3.

News Perspective
If we look at the latest crypto news scored at CISTrader, here are some of the news with a CIS Sentiment score -60% or less which may have a negative impact on the market.
- The Central Bank of the Turkish Republic posted a crypto-currency regulations prohibiting the use of crypto currency payments in goods and services. As of the end of this month, crypto assets cannot be used directly or indirectly as a means of payment in the country and no services can be provided that uses crypto asset in its business model. Similarly, the crypto payment providers cannot offer their services any more.
- Since April 15, the Bitcoin network hashrate has dropped by more than 49% after touching an all-time high at 218 exahash per second. Regional reports indicated that the Xinjiang network in China is experiencing power outages and "security inspections".
- Crypto markets are shaken amid rumors that the US Treasury Department may soon accuse a number of financial institutions of using digital assets to launder money.
- In the formation of the IPO, some analysts expected Coinbase to achieve a valuation of $ 100 billion. Although the closing value was not a million miles away, it was still less than expected.
- Cardano Creator Charles Hoskinson Says the Dogecoin Bubble Will Crash, Bringing Huge Losses to Retail Merchants.