I. Trend Analysis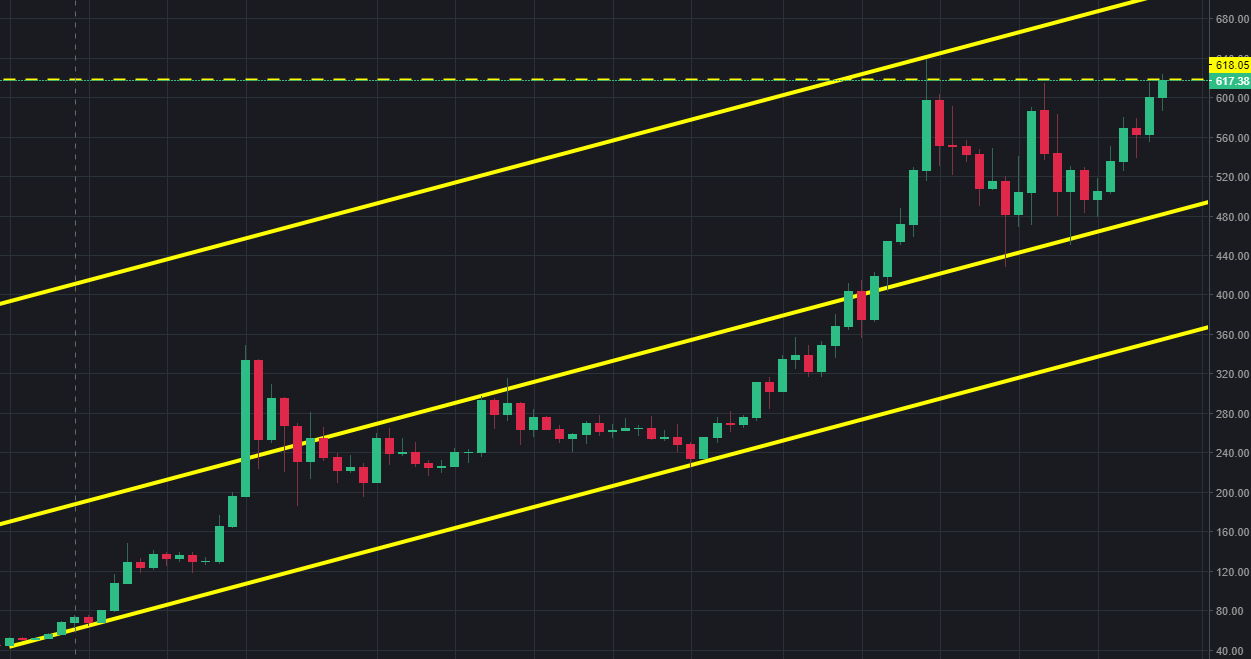 Chart 1 - Trend Analysis
BNB / USD, which started to rise with high volume since 26.01.2021, is in an upward trend and maintains this trend. As of today, it is testing the resistance levels of the channel in a voluminous way. We can expect it to continue rising as long as it stays in the channel.
II. Support & Resistance Points and Fibonacci Retracement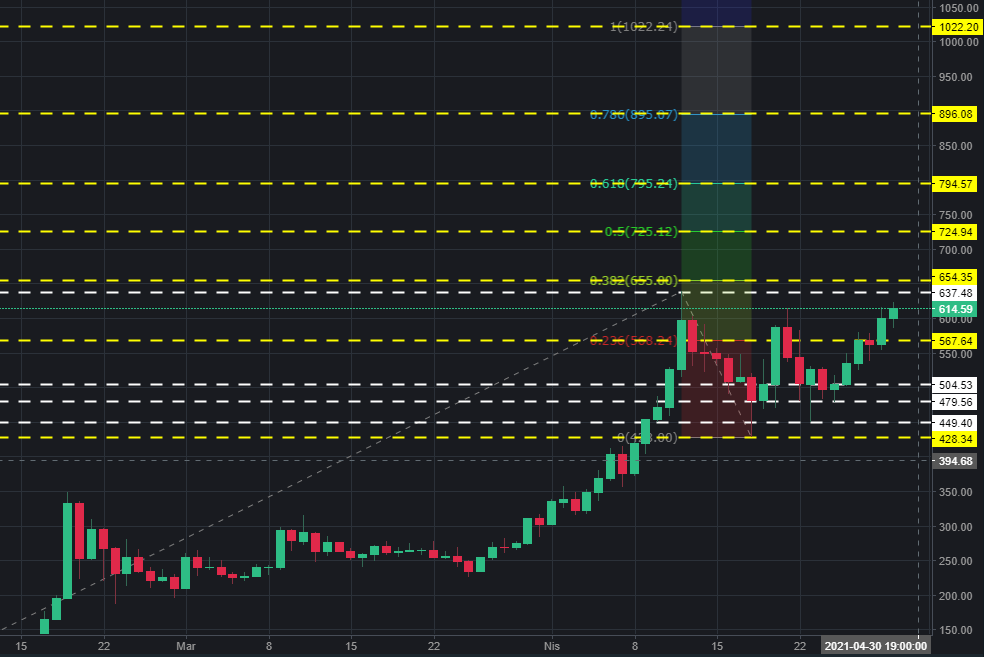 Chart 2 - Support & Resistance Points and Fibonacci Retracement
Let's talk about 5 main resistance and 5 main support points. If the bulky purchases continue, it may be possible to see new peaks. If it cannot catch enough volume, we can predict that it will make a correction. Although BNB, which is still in an upward trend, tests the support points in the first stage, it would not be wrong to predict that strong purchases may come.
| | | | | |
| --- | --- | --- | --- | --- |
| MAIN RESISTENCES |   |   | MAIN SUPPORTS |   |
|   |   |   |   |   |
| 4.Main-Fib Resistence | $895,070 |   | 1.Fib Support | $567,640 |
| 3.Main Resistence | $795,240 |   | 2.Main Support | $504,530 |
| 3.Fib Resistence | $725,120 |   | 3.Main Support | $479,560 |
| 2.Fib Resistence | $655,000 |   | 4.Main Support | $449,400 |
| 1.Main Resistance | $637,480 |   | 5.Fibonacci Support | $428,000 |
III. Gann Fans Analysis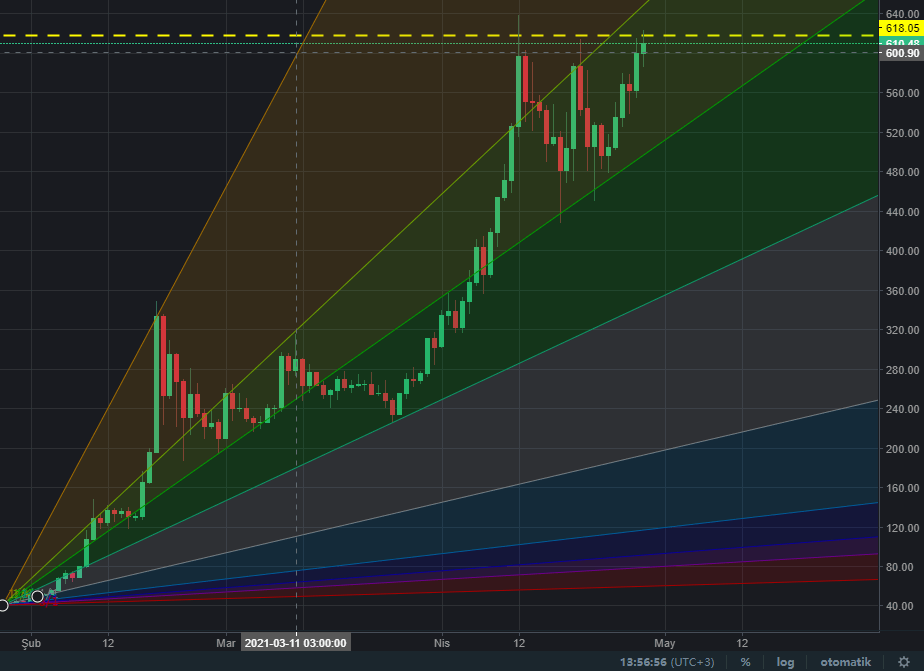 Chart 3-GANN Fan Analysis
You can see how perfectly BNB / USD, which continues in an uptrend, has followed Gann fans. For the uptrend to continue, prices should continue above the Gann Fan (1 * 1) between the gray zone and the green zone. We cannot see a downward trend in the short term, as the prices are above this fan. We can observe that it touches the support and resistance points on the other gann fans (1 * 8, 1 * 4, 1 * 3, 1,2) and continue its increase.
IV. Pattern Analysis
BNB / USD has tested 2 basic patterns since entering the uptrend. The first of these started with the rise that started in mid-February and after about 35 days of consolidation, it disrupted the equilateral triangle formation with upward volume and tested its new peak. The process it is in now is the consolidation phase that has been going on for about 18 days in the second equilateral triangle formation. This can result in a few ways, with good news or volume - if the upside break occurs and holds, it is possible to see new peaks. But if news feeds or low volumes bring selling pressure, this can also break the equilateral triangle pattern downside. If it breaks, we can expect it to test the support points at the first stage. In the next process, we can comment by looking at trend tracking, Fibonacci analysis and Gann analysis.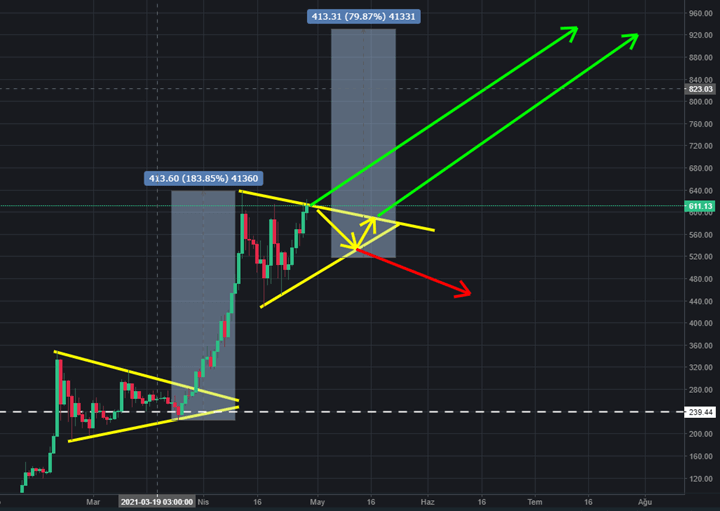 Chart 4-Pattern Analysis
V. News Perspective
Here are some relevant recent news for Binance in general and BNB in particular.
- NFT mania has just gone bigger, with Binance, one of the world's largest cryptocurrency companies, announcing its intention to launch a marketplace for the new species of digital assets.
- Binance Coin Spikes 10%, BNB Regains $90 Billion Market Cap. BNB is up by more than 1,500% over the last 4 months.
- Strong on-chain metrics suggest further upside for Binance Coin (BNB). Binance Coin looks fundamentally strong to resume its uptrend and target new all-time highs.