I. Trend Analysis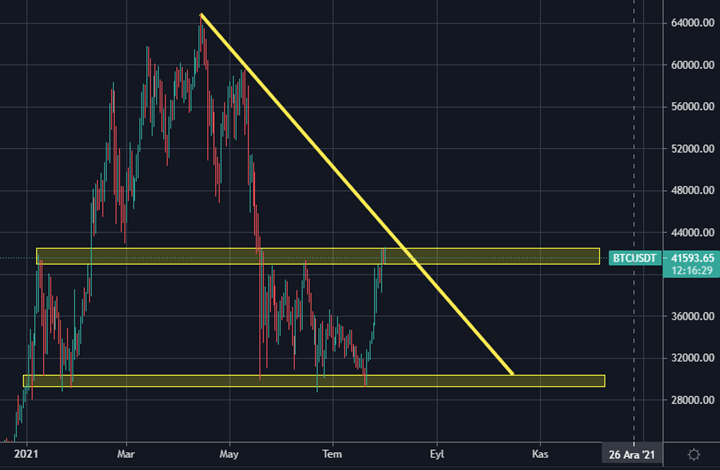 Chart 1 – Trend Analysis
Bitcoin/USD has been in a downtrend since April 14, 2021. However, this trend has not been tested with many resistance points. It has been moving in the area marked with yellow rectangles for approximately 2.5 months as of May 18, 2021. For the uptrend to continue, this rectangle and the yellow line in the downtrend must be broken.


II. Support & Resistance Points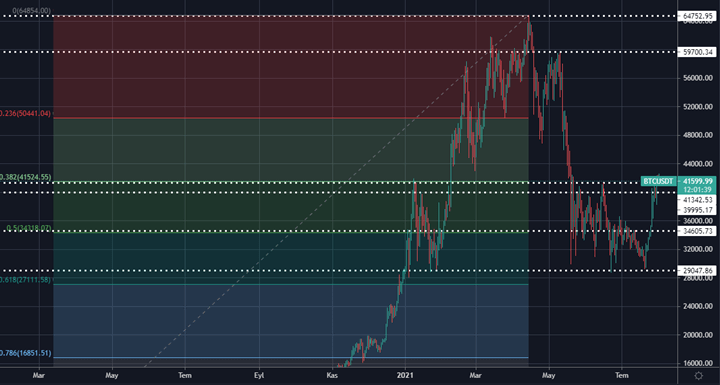 Chart 2- Support & Resistance Points
Let's talk about 5 main resistance and support points.. Below are the main support and resistance points.


III. Formation Analysis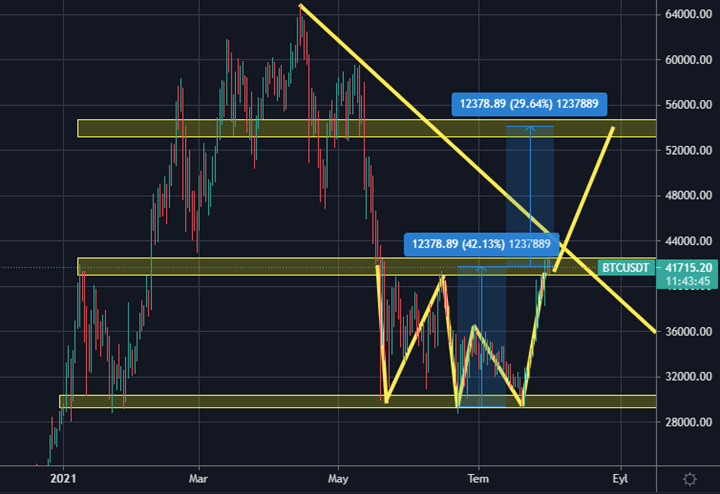 Chart 3 – Formation Analysis
A triple bottom formation has been formed, and in this formation, we can expect the price to go up as much as the formation length.


IV. Fear & Greed Analysis



Chart 4- Fear & Greed Index
This index, which has a score of 60 out of 100, shows us that there is a greed in the market.
Source: https://alternative.me/crypto/fear-and-greed-index/


V. News Perspective


Here are the headlines of the most recent news for Bitcoin:
-The hedge fund Goldentree, a firm with $41 billion in assets under management (AUM) has reportedly added the leading crypto asset Bitcoin to its balance sheet.
-According to a new law coming into effect next week, some German investment funds will be able to hold up to 20% in digital assets. This comes amid growing demand from various institutions towards the industry.
-MicroStrategy's chief financial officer (CFO) Phong Le says the enterprise analytics software firm, which currently holds over 100,000 Bitcoin, is open to buying more of the flagship crypto asset.
Sources:
https://cryptopotato.com/german-institutional-funds-can-now-invest-20-of-portfolios-in-crypto/
https://news.bitcoin.com/multi-billion-dollar-hedge-fund-goldentree-is-reportedly-adding-bitcoin-to-its-balance-sheet/
https://dailyhodl.com/2021/07/31/microstrategy-cfo-says-the-michael-saylor-led-firm-may-buy-more-bitcoin-on-this-condition/