Background


The Link Between Enjin and Efinity*
Enjin was founded in 2009 by Maxim Blagov and Witek Radomski. Over the next decade, they grew their first product, Enjin Network, organically, reaching over 20 million players worldwide. In 2017, the company hosted a successful ICO of Enjin Coin (ENJ) and began spearheading a vision for non-fungible tokens (NFTs). Leading creators and developers and leading companies such as Microsoft (Azure Heroes), Samsung (Samsung Blockchain Keystore), and BMW (Vantage) have integrated Enjin's products and services. In 2017, Enjin pioneered the NFT industry by writing the advanced ERC-1155 token standard and launching the first NFT generation platform. Enjin is the team behind Efinity, a cross-chain NFT network powered by Efinity Token (EFI) and built on Polkadot.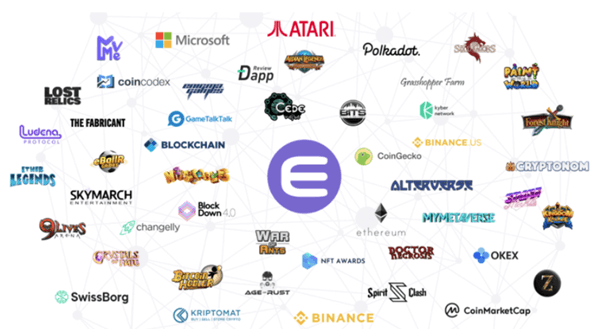 ENJIN NETWORK


How did the Idea of Efinity come about*
Creators are forced to work with crippling fees, inflexible smart contracts. Adoption of today's NFTs is still limited to die-hard crypto enthusiasts. Blockchains on which intangible tokens live provide no incentive (other than rising prices) to real users because miners are given a share of the NFTs produced. Prices rise, infrastructure companies create silos and paywalls, and it becomes difficult to make real progress in this industry. Businesses and developers desperately need a platform that can deliver a modern, mainstream and developer-friendly NFT experience. EFINITY was built to solve these problems.
Focus Area*
Efinity is eco-friendly, scalable and built to enable a future where NFTs are as common and easy to use as smartphones today.
Mission*
Efinity's goal is to be an NFT highway. Token creation, transfers and purchases are the network's priority.
Market At Efinity*
Efinity will provide buyers and sellers with a robust suite of tools to create and fill orders for any token.
This functionality facilitates the development of third-party applications that use Efinity to transfer NFTs to other blockchains, from blockchain-based games on other networks to NFT marketplaces and exchange platforms.
Scalability in Efinity *
Efinity will process 700-1,000 transactions per second based on current benchmarks, Transactions are confirmed in 6 seconds allowing for fast response times required for mainstream applications.
Who Gets Awarded at Efinity *
Unlike Bitcoin or Ethereum, Efinity rewards network participants, not miners. From NFT creators and merchants to developers and early adopters, everyone is rewarded with EFI tokens that support the growth and development of Efinity.
Advantages of Using Efinity *
Efinity is built on Polkadot, allowing any NFT from any chain to be moved to the network, empowering it with next-gen features, low fees and fast transaction times. Efinity will enable NFTs to be used by almost every industry, with a potential to unlock trillions of dollars currently in illiquid and unique real-world and digital assets.
How Efinity Will Spread *
Enjin is working with Parity Technologies to develop Efinity as a Polkadot parachain. This allows Efinity to have an independent economic framework, data and state.
How is Management in Efinity
Efinity parachain uses decentralized governance such that anyone can submit a proposal, and EFI holders have the opportunity to vote on proposals and referendums to drive the future of the network.
What Fuel Tanks Do in Efinity *
Fuel Tanks are special separate accounts used only for transaction fees and allow companies to subsidize their customers' costs by depositing EFI tokens into a Fuel Tank they control.
What Does Multi-Signature Do in Efinity *
Multiple signatures allow multiple transfers, exchanges, minting and processing where multiple wallets or tokens are involved in the transaction.
Efinity's Slogan *
A next-generation blockchain for NFTs!
Team*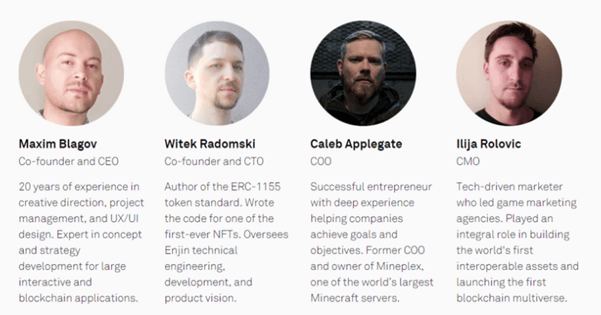 Tokeneconomics*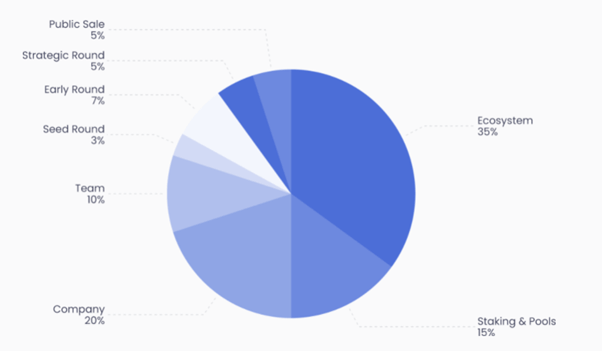 Token Distribution Schedule*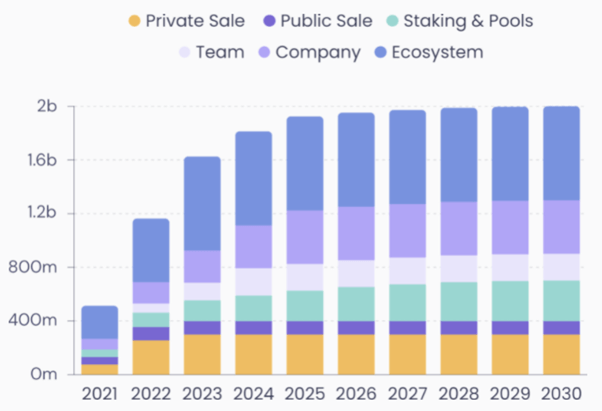 Funding History*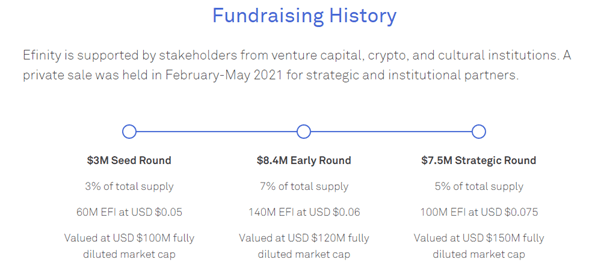 Backers*