Background
For many years, subscriptions were limited and almost exclusive to products like magazines, gyms, and cable TV. But as technology has advanced and the world of cloud-based computing has developed, many companies have made the switch from one-time payment to subscription system.
The recurring revenue and subscription model entered our lives. As a result, we have subscriptions everywhere: from diet programmes to music, from TV shows to clothes, from games to various software programs.
How did the Idea of Revuto come about?
Josipa Majic, CEO of Revuto, said in an interview: "There are two general reasons why I started Revuto. From a personal perspective, I had the strange and frankly frustrating experience of paying for an increasing number of products and services, all subscription-based. As a result, I started forgetting whom I was spending how much and which credit or debit card I was using. I was also paying for services I stopped using; This meant that there were several free trials that I still kept paying for because I forgot to unsubscribe in time or couldn't find an easy way to unsubscribe. Banks were dealing with larger customers, focused on integration and architectural problems, Fintech companies were focused on growth, and that meant: There was a huge gap in the industry in this area and I could fill that gap with Revuto. I also asked my friends if they were having the same issue and since the answer is always yes, I decided to fix it myself with Revuto, a subscription management company that allows the customer to choose between Approving, Postponing or Blocking a particular payment."
Focus Area*
Complete control over subscription services
Mission*
To provide the best service for checking and paying subscriptions, to build a strong community of both crypto users and users who do not need to have crypto exposure in the past.
Goal*
Revuto's goal is to save people money by letting them control what, when and how they pay for their subscriptions.
Using Cardano native tokens and DeFi to pay for subscriptions, Revuto's ecosystem aims to save user's money regardless of crypto market conditions.
Advantages of using Revuto*
Revuto allows users to manage their subscriptions, thus they never pay for unwanted subscriptions. This practice maximises the value of subscriptions and reduce periodicity as much as possible.
Revuto's Slogan*
Subscribe, check and pay with crypto!
What is Revu?*
REVU is a native token on the Cardano network and the main crypto asset utilised within Revuto Project.
What happens when you hold Revu tokens?*
The Revuto project explains the benefits of holding Revu token as follows:
Save money while paying your subscription fees.

Enable or disable subscriptions with a few clicks.

Add "Block", "Delay" and "Confirm" options to subscription fees.

Pay and subscribe for products and services using digital currencies such as Cardano (ADA) and REVU.

Stake REVU to activate additional features and earn rewards.

Get cash on REVU for subscriptions you activate.

Get REVU tokens for every friend you refer.
How about Revuto's Crypto Wallet?
Revuto's crypto wallet was created to allow pre-authorised payments from other Revuto wallet addresses and support direct authorisation with service providers.
Revuto's crypto wallet supports Cardano-based native tokens by default, including REVU tokens and the EURR stablecoin.
Revuto DApp
Revuto's flagship product is the Revuto DApp, a decentralized mobile application that allows users to manage their subscriptions from a single dashboard.
Revuto aims to support users by allowing users to approve, block or defer subscription charges as they occur.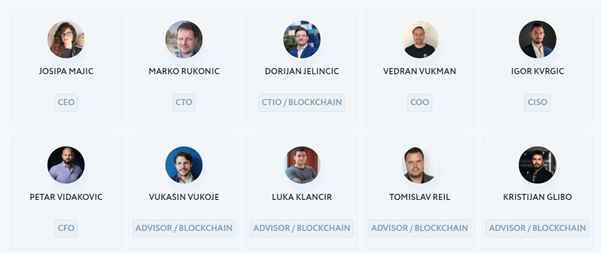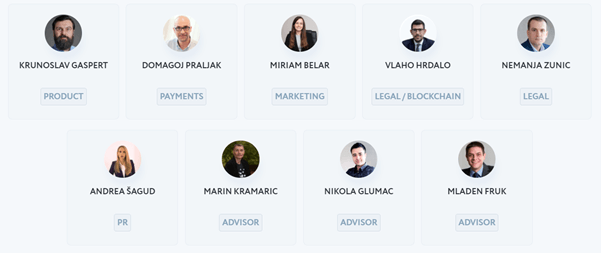 Token Economics for Revuto Project*
The project announced that they will keep 53% of the tokens for the project and assign 15% to Teams & Advisors. They will release 6% during Private round, 11% during Early Bird, 15% during Community Sale. The total supply of Revu Tokens is 280.215.000 which number of Revu tokens for each of these groups is given below together with the Revuto Token Distribution Calendar for May-21 till May-22. Please note that the distribution will continue in varying amounts till Sept-24.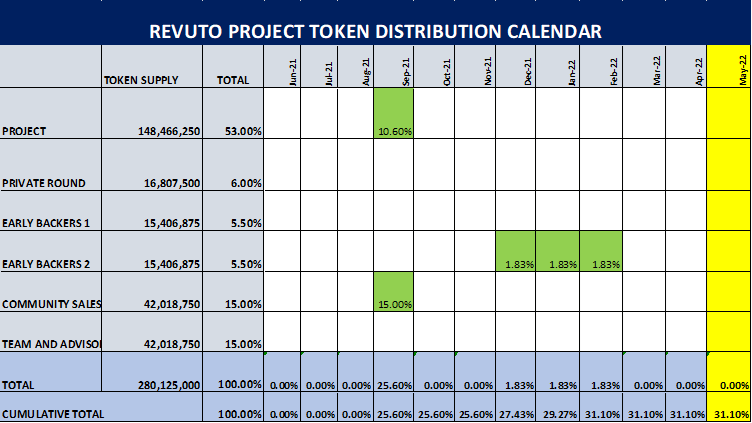 Revuto Funding History
Here is the funding history for the Revuto Project thus far:
REVUTO FUNDING HISTORY

 

TOTAL TOKEN SOLD

TOKEN PRICE

TOTAL REVENUE

Private Round

16,807,500

£0.085

£1,428,637.50

Early Backers Tier 1

15,406,875

£0.085

£1,309,584.38

Early Backers Tier 2

15,406,875

£0.090

£1,386,618.75

Community Sales Round

42,018,750

£0.100

£4,201,875.00

TOTAL

£8,326,715.63
DISCLAIMER
This article does not constitute and cannot replace investment advice.
CryptoIndexSeries does not recommend that any cryptocurrency should be bought, sold, or held by you. Do conduct your own due diligence and consult your financial advisor before making any investment decisions.