I. Trend Analysis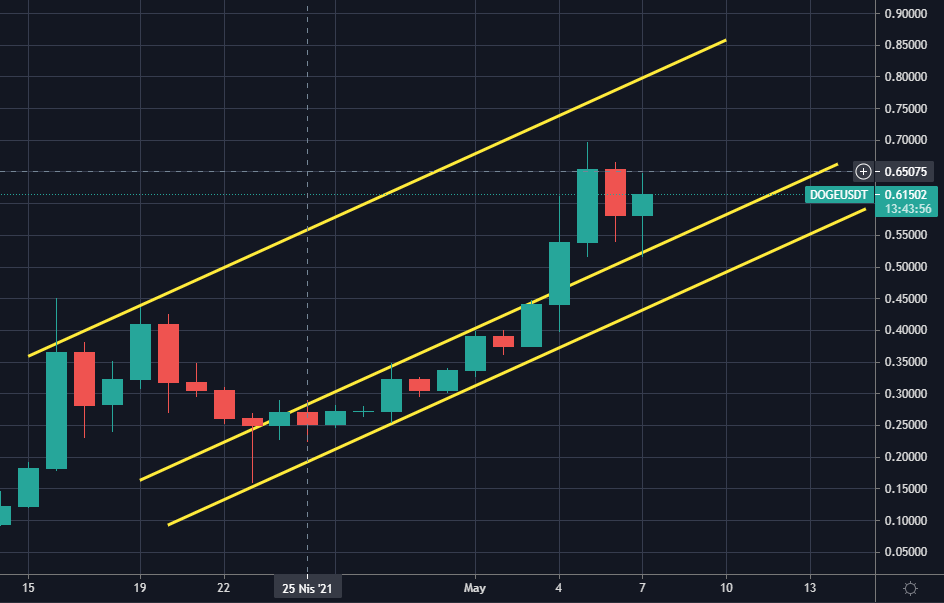 Chart 1 - Trend Analysis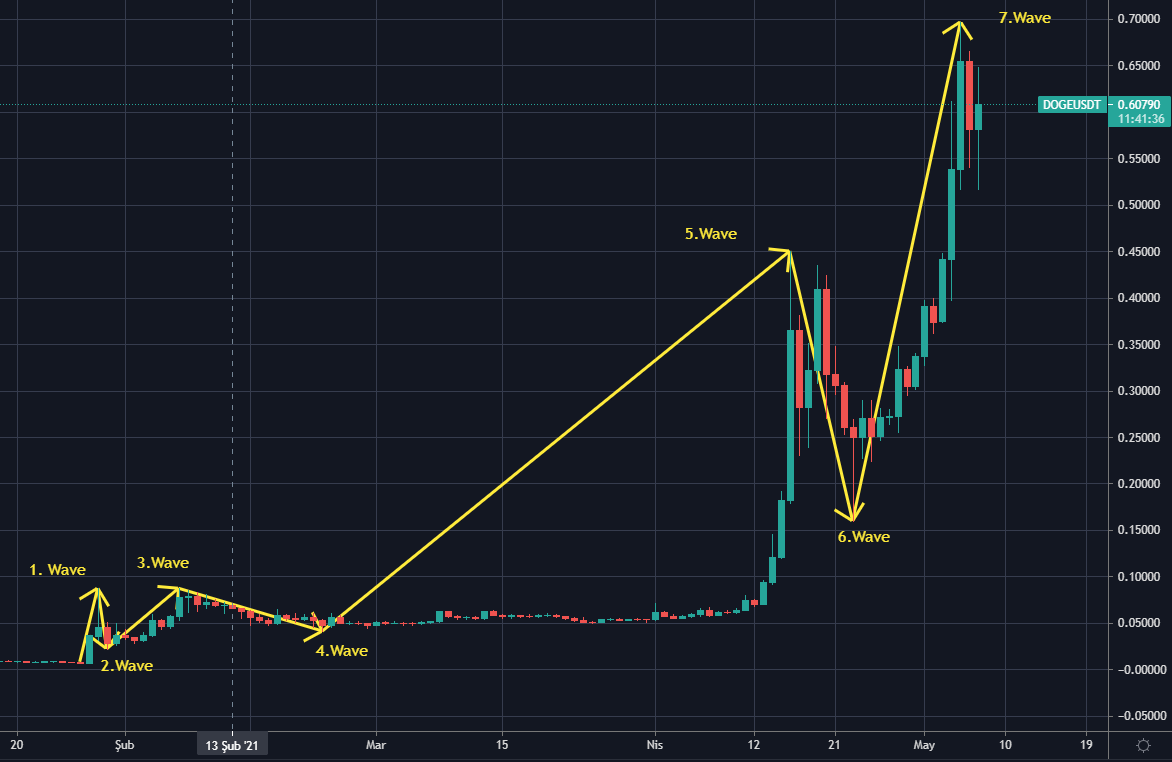 Chart 2 – Trend Analysis - Waves
Due to the increase in volume on 13.04.2021, DOGE / USD is in an upward trend and maintains this trend so far. However, it also loses the tracking volume where it is located and it is supported by these indicators. This can be seen with the channel being in discordance with the volume and demand indices. This situation accelerates the downward breaking problem. In this release, we can expect a correction towards the support levels outlined below in Wave 8. However, this forecast needs to be supported by volume.
II. Support & Resistance Points & Trend Based Fibonacci Extension & Fibonacci Retreament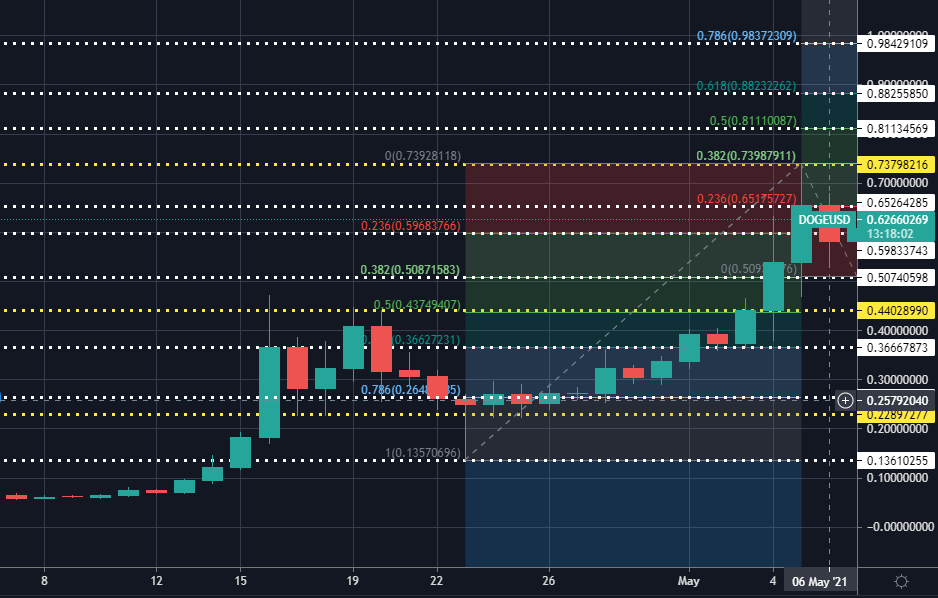 Chart 3- Support & Resistance Points & Trend Based Fibonacci Extension & Fibonacci Retreament
Let's talk about 5 main resistances and 6 main support points. Technically, it would not be wrong to expect it to follow support points primarily due to low volume trend tracking and reversal mismatch. However, in the event of repetition of situations such as celebrities positive comments and/or some groups gathering on reddit and social platforms overbuying Doge Coin, we can expect it to regain volume and test the resistance points below.
| | | | | |
| --- | --- | --- | --- | --- |
| MAIN RESİSTENCES |   |   | MAIN SUPPORTS |   |
|   |   |   |   |   |
| 5.Fib Resistence | $0,9837 |   | 1.Fib Support | $0,5968 |
| 4.Fib Resistence | $0,8823 |   | 2.Fib Support | $0,5087 |
| 3.Fib Resistence | $0,8111 |   | 3.Fib-Main Support | $0,4374 |
| 2.Fib-Main Resistence | $0,7390 |   | 4.Fib Support | $0,3663 |
| 1.Fib Resistance | $0,6517 |   | 5.Fibonacci Support | $0,2648 |
|   |   |   | 6.Main Support | $0,2289 |
III. Formation Analysis
If we do a DOGE / USD formation analysis, we can observe that it formed the bowl formation between April 19, 2021 and May 4, 2021. This pattern informs us that the price may rise as much as the size of the bowl created. But it should be supported by indicators. Now the price has increased to the size of the dish. It would not be right to talk about a new formation in terms of DOGE/USD right now. But first of all, we can expect it to enter a broad consolidation phase.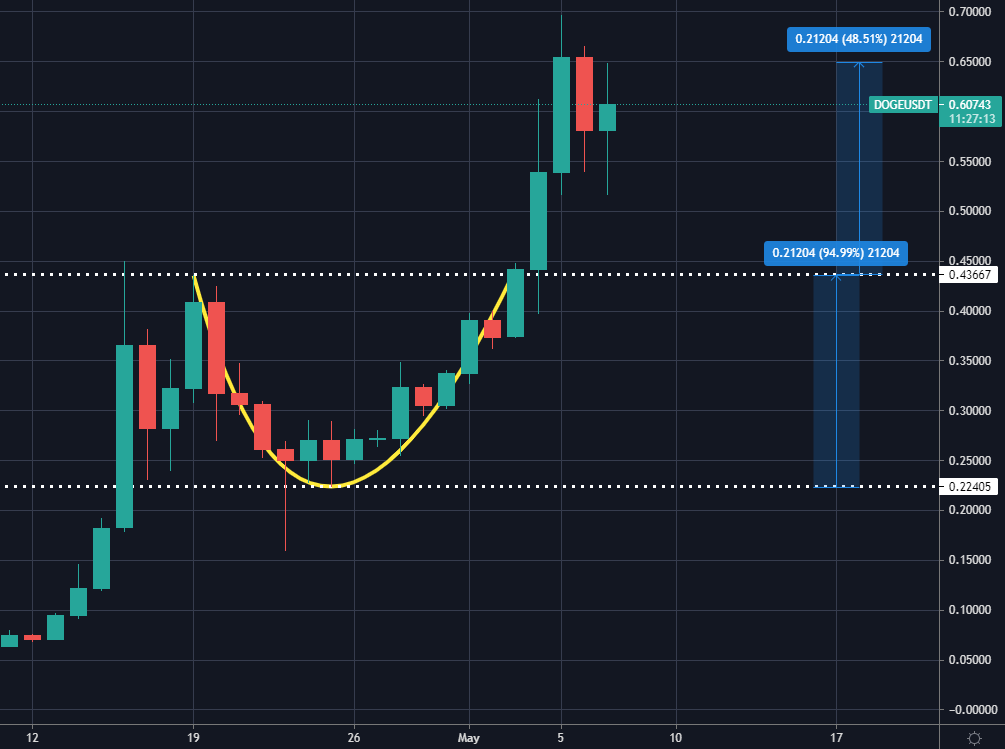 Chart 4-Formation Analysis
IV. News Perspective
Here are some relevant news:
 -Cardano (ADA) founder Charles Hoskinson is not a fan of Dogecoin (DOGE). In a new update on the state of Cardano and the crypto markets, Hoskinson says DOGE is not sustainable and is likely to result in a systemic, catastrophic failure that will disenfranchise millions of investors.
- The crypto token that started as a joke in 2013 appears to be having a great week as it has rallied by almost 50 percent. According to some market pundits, tomorrow's SNL event hosted by billionaire Elon Musk promises to send Dogecoin prices higher surging. Elon is widely expected to do his usual Dogecoin skit mentioning as a way of driving traffic to the event. This will in turn raise Dogecoin's profile and increase its market demand.
-The CEO of Galaxy Investment Partners stated, "I am not participating on the long side. I think it is dangerous… Once the enthusiasm dies, you could have a long way down… Most of the value is a gambling value in my mind or 'wear a DOGE on your shirt' value."